Become more well known,
make contacts and gain students

Events and exhibitions
Print
Online
Targeted email
Campus campaign
together ag
Partner for university and student marketing
Print
Online
Targeted
email
Campus
campaign
Events
and exhibitions
Thomas Wegmann, M.A. HSG
Senior University Relations Manager
together ag - Partner for universities and student marketing
With many years' experience, professionalism and passion we support polytechnics, universities, teacher training colleges, business schools and other institutions in successfully positioning themselves with graduates, students and professionals as attractive education providers.
Organiser of

20 events and exhibitions

annually (with more than 10,000 visitors)
Publisher of the most popular

careers guide

and

career magazine

Operator of the websites

together.ch

and

talendo.ch

(largest jobs and careers portal)
Implementation of your

marketing campaign

through targeted email or campus campaigns
Download events and exhibitions dates
1,4 MB
OUR PRODUCT GROUPS
Events and exhibitions
Nothing works as well as personal contacts. Demonstrate to your target group at the Masters' exhibition and / or at the graduate exhibition your openness and your interest by your exhibition stand and / or presentation.
To the Masters' exhibition
To the Masters' exhibition (English)
To ProOst
To Aargau Careers
To the Graduate exhibition
Print
With the career magazine "Talent Careers" and the careers guide "Career Starter" you can have a presence all over Switzerland. Present yourself in this established magazine in accordance with your requirements with advertisements, university profiles under the magnifying glass, departments/faculties under the microscope, masters' degree courses under the microscope or editorial contributions.
To Talent Career
To Career Starter
Online
On our websites together.ch and talendo.ch you find students, graduates and professionals who are actively dealing with the subjects of study, entry into a profession and career. You can also be present, where your target group is obtaining information - with a banner or a logo as Top University. If you want to position yourself with high school students or students, you have the possibility to become a sponsor of our online quiz "Battle of the Brains"
for high school students or students.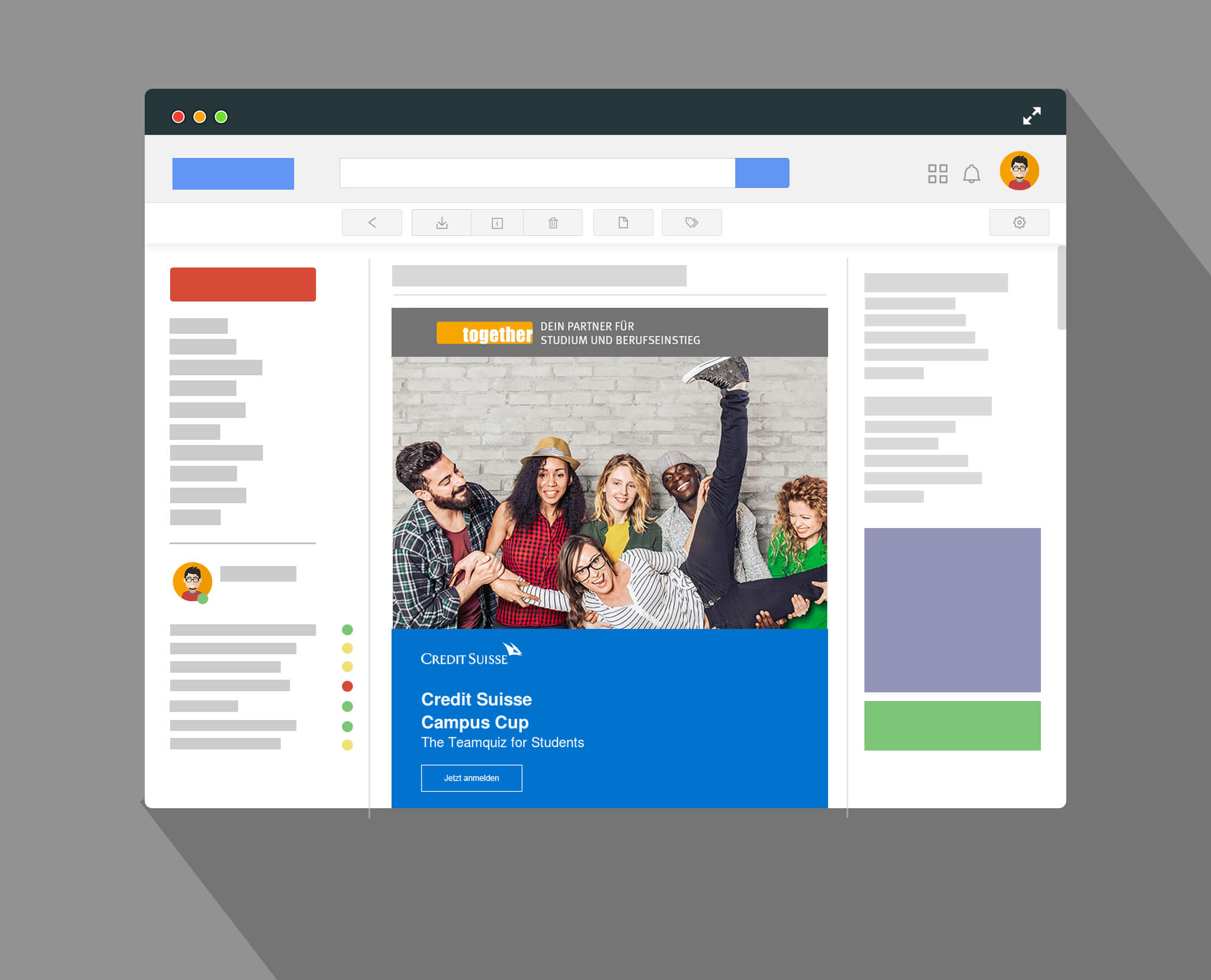 Targeted email
In our database you will find 32,000 students and and professionals from all polytechnics and universities in Switzerland. Select the database according to area of study, university, level of study, final year, canton or origin or gender and inform your target group about your courses, information exhibitions or application deadlines.
Further information
Campus campaigns
With our 50 plus campus scouts you can have a presence in polytechnics and universities all over Switzerland. Present your image campaign or courses of study in good time at your selected locations – whether this is using posters, fliers, sheets or active sampling.
Further information
SATISFIED CUSTOMERS
YOUR CONTACT PERSON
Thomas Wegmann, M.A. HSG
Senior University Relations Manager
Contact us at any time
CONTACT
Questions or requests? We are happy to help you personally
Contact
together ag
Poststrasse 18
Postfach 2150
CH-9001 St.Gallen